Vision ~What we do~
JCIC is a hub which connects: industry / government / academia; experts / people; Japan / overseas; every initiative toward digitalized society.
Function as Japan's window on cyber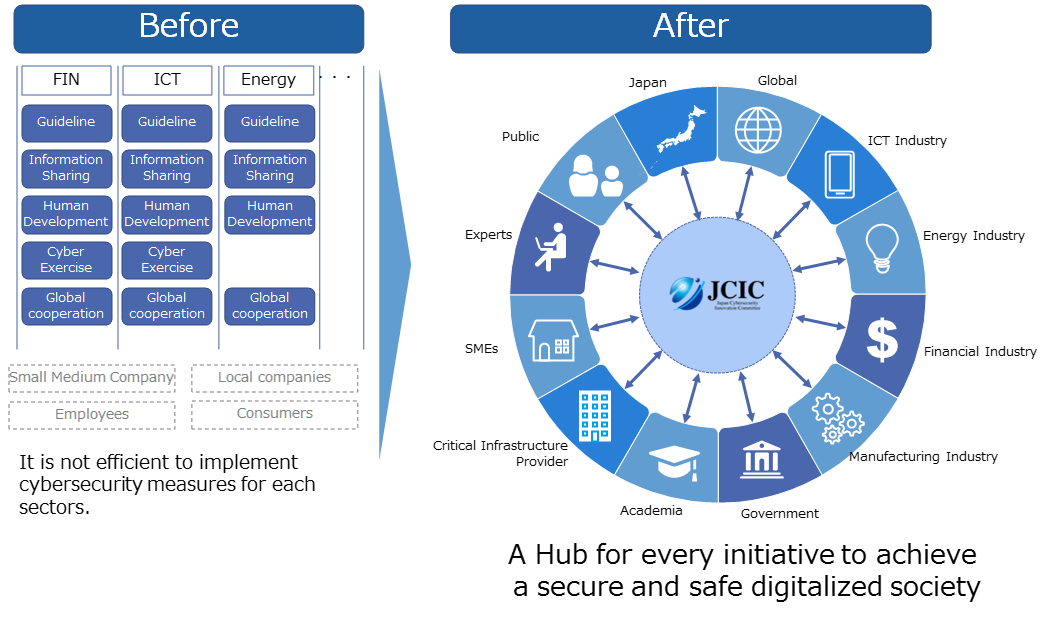 Become a member

Knowledge
Library of research reports and briefing papers. / Obtain the latest knowledge and information (domestic & international).

Reports
Support to develop the cybersecurity strategy.

Networking
Join in opinion exchanges between CEOs and governments and strengthen connections with experts and policymakers.

Policy Making
Make the cybersecurity policy proposal to policymakers.
Type of membership

Annual Membership Fee

Membership benefits and rights

Special members (corporation or organization conducting business in Japan)

10 Million JPY

Participation in working groups established by the Committee
Participation in symposiums, etc. jointly sponsored or in cooperation with the Committee and preferred allocation for sessions and participation in planning meetings
Participation in seminars and roundtables organized by the Committee
Preceding reception of full reports

Regular members (corporation or organization conducting business in Japan)

1 Million JPY

Participation in working groups established by the Committee
Participation in symposiums, etc. jointly sponsored or in cooperation with the Committee and preferred allocation for sessions and participation in planning meetings
Participation in seminars and roundtables organized by the Committee
Preceding reception of full reports

Associated members (corporation or organization: small and medium sized enterprises are envisioned)

0.25 Million JPY

Participation in seminars and roundtables organized by the Committee
Reception of full reports

Ministry and government office and local government members

Free

Participation in working groups established by the Committee
Participation in symposiums, etc. jointly sponsored or in cooperation with the Committee and preferred allocation for sessions and participation in planning meetings
Participation in seminars and roundtables organized by the Committee
Preceding reception of full reports

Supporting members (individuals, persons requested by the Committee)

Free

Preferred participation in seminars and roundtables sponsored by the Committee
Free participation in social events
Articles of the Committee
JCIC Membership Bylaws